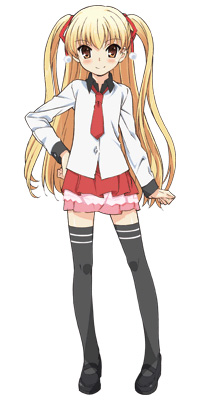 The second eldest of the three sisters, Miu Takanashi (小鳥遊 美羽) is 10 years old and in fifth grader. She has blonde hair as her biological mother has a Russian lineage. She normally refers to Yūtta as "Death" or "Blood"
She has a preference for guys who are older than her and manly. She dates Ko1 in episode 9.
Sako appears to like Miu the best of the three.
Ad blocker interference detected!
Wikia is a free-to-use site that makes money from advertising. We have a modified experience for viewers using ad blockers

Wikia is not accessible if you've made further modifications. Remove the custom ad blocker rule(s) and the page will load as expected.